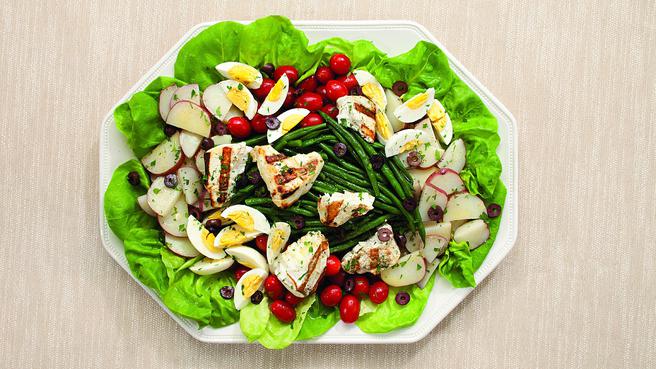 Healthy Mediterranean Dishes for the New Year 
Mediterranean food is said to be some of the healthiest in the world – which makes it ideal if your New Year's Resolution is to go on a diet. Like most Italian cuisine, the emphasis is on good quality, fresh local produce. Traditional dishes feature lots of fresh fruit and vegetables and healthy ingredients such as good quality olive oil. 
Rick Stein 
If you're looking for some ideas to kick start your New Year diet, have a look at Rick Stein's Mediterranean Escapes (pub BBC Books). This cookery book, by celebrity chef Rick Stein, is packed with over 100 recipes from his recent journey around the Mediterranean coastline. Dishes featured come from Morocco, Turkey, Greece, and France – as well as Italy, which is particularly well represented with recipes from Puglia, Sardinia and Sicily. As you might expect, given that Rick Stein runs the award winning Seafood Restaurant in Padstow, Cornwall, fish and seafood feature prominently in the cookbook – ideal for light, healthy meals. 
Swordfish, Sardines and Summer Holidays 
One of the best things about Italian – and Mediterranean, the cuisine is its simplicity. Ingredients are chosen for their quality and allowed to speak for themselves. This also generally makes the dishes easy to prepare. The book is divided into chapters focusing on different ingredients, such as aubergines and artichokes; sardines and swordfish; rabbit and wild boar, and beans, rice and pasta. While it would have been more interesting had it been divided by country, so you could get a sense of the subtle variations in Mediterranean cuisine, this does make it easier to find specific recipes. It's also filled with glossy photographs of various places Rick Stein found on his Mediterranean journey. There's something rather smug about celebrity journeys like this – but many places do look so lovely they make you want to rush off and book your summer holiday straight away. 
Tabbouleh and Tagine recipes 
Some of the recipes are for familiar Mediterranean dishes such as Tabbouleh (bulgur wheat and parsley salad) from Turkey; Souvlaki and Kleftiko (lamb dishes) from Corfu; Moroccan Chicken with Preserved Lemon and Lamb Tagine (slow cooked lamb with prunes and almonds) from North Africa, paella from Spain and various pasta dishes from Italy. 
Seafood recipes from Sardinia 
However other recipes are more unusual. You'll find Sarde a Beccafico (sardines stuffed with pine nuts) from Sicily; roast monkfish with fennel and olives from Corfu; Burrida alla Cabrarese (skate with tomato, saffron and sultanas) from Sardinia; Pollo alla Diavola (devilled grilled chicken) from Puglia, and Orzotto Frutti di Mare (pearl barley risotto with seafood) also from Puglia. 
Ideas for Healthy Eating 
Use Rick Stein's book to give you ideas, and adapt these Mediterranean recipes if necessary to fit in with your New Year diet. It should ensure that you've got plenty of delicious healthy food to eat – and means you're more likely to stick to your new eating plan.